Not too long ago I cringed at charging the equivalent of $100 an appointment.
New coaches always struggle with this question: "How much should I charge for my coaching?"

You may be asking that very question.
You've invested time and money into coach training. And want to know, How much should I charge for an hour of coaching? What you're really asking is: How much am I worth? Will people really pay to work with me?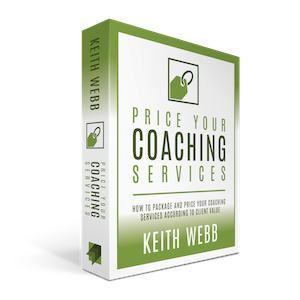 I understand these questions, but they are the wrong ones!
The focus is on you and your coaching. Clients are focused on the results you will provide, not you!

That's why I created a step-by-step program for pricing your coaching services according to client value.
In Price Your Coaching Services, I'll show you how to create compelling client value in your coaching services. I will personally walk you through 8 practical and easy-to-follow modules, including downloadable videos, audio recordings, worksheets, PDFs of every presentation, and full written transcripts.
After seeing the changes clients have made in their organization and personal lives, I now see $100 an appointment as a bargain. Not because of me, but the value clients received.
Keith Webb
Founder, Creative Results Management