Getting clients is nerve wracking. Especially when you're ready to coach and no one is knocking.
Dear Coaches,
I have some good news: attracting your ideal clients is possible. But it requires marketing.
I know, you don't like that word, but let me explain.
For many of us, myself included, we got into coaching to help people. We got excited by a new way to lead and help people by drawing out their unique calling.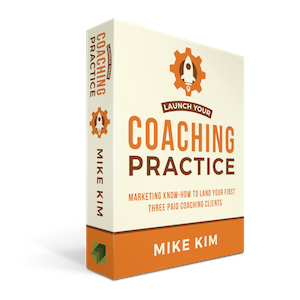 When we think about marketing, the first thing that comes to mind is self-promotion. This is a mistake. Marketing is simply letting people know how you can help them.
I reached out to my friend, Mike Kim, to create a step-by-step program for coaches. Mike is an expert in personal branding and marketing (and a former pastor.)
It's called Launch Your Coaching Practice and as part of the program, Mike will take you under his wing for 6 practical and easy-to-follow modules, including downloadable videos, audio recordings, PDFs of every presentation, and full written transcripts.
You'll learn how to launch and promote your coaching services even without a website, or tons of tech work.
Keep reading...
Keith Webb
Founder, Creative Results Management